Office Ergonomics
FC du Toit
Musculoskeletal disorders (MSDs) e.g. lower back pain, are a common health problem worldwide and represent one of the leading causes of occupational injury [Boersma and Linton, 2005; Choobineh et al., 2007; McGeary et al., 2003; Punnett et al., 2005; Smith et al., 2003; Stover et al., 2007]
The risk factors of MSDs are known to include workplace activities such as heavy load lifting, repetitive task and awkward working postures, while demographic characteristics and psychological factors are also known to be important predictive variables [Choobineh et al., 2007; Smith et al., 2003]
Repetitive strain injury such as postural pain syndrome and back pain are reaching epidemic proportions amongst office workers.
Office of Horrors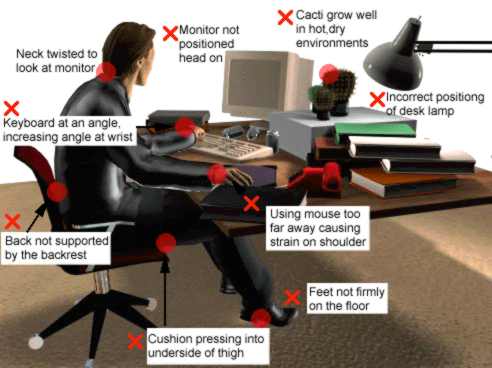 Ergonomics is the study of how people physically interact with their work (fitting the job, the equipment and the work environment to the worker). The wrong posture day in and day out may affect your health in the long run.
The ideal office
Feet:

Feet flat on floor (or on footrest)

Knees:

Knees clearing desk and 90º
Thighs parallel to floor.
Only moderate pressure at the front of the seat cushion

Lower Back:

Buttocks against back of chair.
Back upright and supported by backrest

Head:

Head up
Eyes looking forward most of the time
Top of screen slightly below eye level.
Do not twist the head.
Reference material easy to look at

Wrist:

Shoulders relaxed
Hands in line with the forearms
Move the whole arm when using the mouse.
Avoid isolated movement of the wrist area.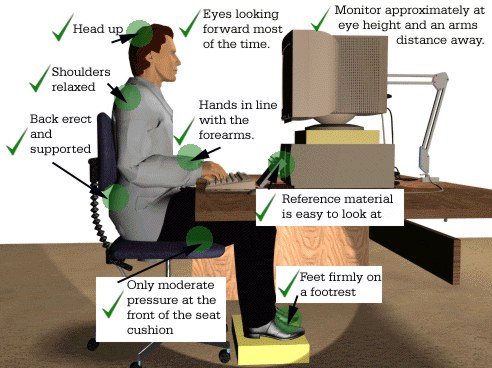 The Crucial 90 degree angle rule
Knees 90 degrees
Hips 90 degrees
Elbow angle 90 – 110 degrees
Move your chair as close as possible to the edge of the desk as well.
This rule puts the body in the most 'relaxed' way on the chair.
In the beginning it might feel that you are 'boxed" in – but once used to it – your body will enjoy this!
Additional setup steps:
Eliminate any reflection on your monitor
Position any additional equipment in accessible places
Exercises for the office
The biggest injury risk factor for computer users is static posture
Try to spend at least 5 minutes every hour away from your computer
Try to incorporate stretches into your daily routine
Stretch only to the point of mild tension
For more information contact a Biokineticist in your area.
REFERENCES
1. Boersma, K. and Linion, SJ., 2005. Screening to Identify Patients at Risk Profiles of Psychological Risk Factors for Early Investigation. Clinical Journal Pan American Health Organization, Vol (21), 38-43.
2. Choobineh, A. Tabatabaei, S.H. Mokhtarzadeh, A. Salehi, M., 2007. Musculoskeletal Problems among Workers of an Iranian Rubber Factory. Journal of Occupational Health, Vol (49), 418-423.
3. McGeary, D.D. Mayer, T.G. Gatchel, R.J. Anagnostis, C. Proctor, T.J., 2003. Gender-related differences in treatment outcomes for patients with musculoskeletal disorders. The Spine Journal Vol (3), 197-203
4. Punnett, L. Pruess-Uestuen, A. Nelson, D.I. Fingerhut, M.A. Leigh, J. Tak, S.W. Phillips, S., 2005. Estimating the Global Burden of Low Back Pain Attributable to Combined Ocupational Exposures. American Journal of Industrial Medicine, Vol (48), 459-469
5. Smith, D.R. Sato, M. Miyajima, T. Mizutani, T. Yamagata, Z., 2003. Musculoskeletal disorders self-repored by female nursing students in central Japan: a complete cross-sectional survey. International Journal of Nursing Studies, Vol (40), 725-729.
6. Stover, B. Silverstein, B. Wickizer, T. Martin, D.P. Kaufman, J., 2007. Accuracy of a Disability Instrument to Identify Workers Likely to Develop Upper Extremity Musculoskeletal Disorders. Journal of Occupational Rehabilitation, Vol (17) 227-245.